STATION 3
Station 3 is located on the Jasper's north side at 118 E. 35th Street.

It currently houses one engine the fire prevention trailer, Jasper's first motorized fire engine and also houses the Department's training room.


---
Apparatus at Station 3
Engine 1 is a 1985 FMC mounted on a Ford chassis.
1250 GPM Hale pump
750 gallon water tank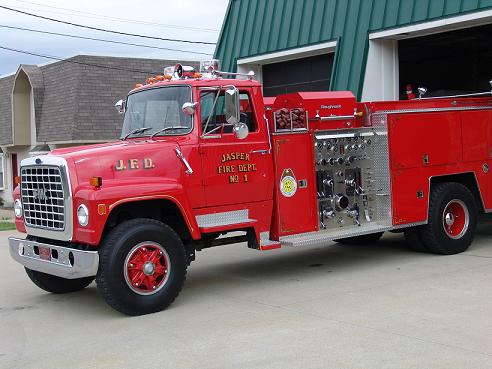 Fire Prevention Trailer
The trailer is a 2002 Surrey Safety trailer, this was purchased with FEMA grant money.


This trailer has the ability to help children and adults alike about the dangers of fires in a structure. It is equipped with a liquid based smoke machine, smoke detectors, fire alarm pull station, video cameras, as well as a severe weather alert system. Also inside are sets of firefighter turnout gear made specifically for the children so they get to experience what it is like first hand to be a junior firefighter. The trailer can also double as an incident command center, housing radio equipment, generator and other items in case of an extended emergency.