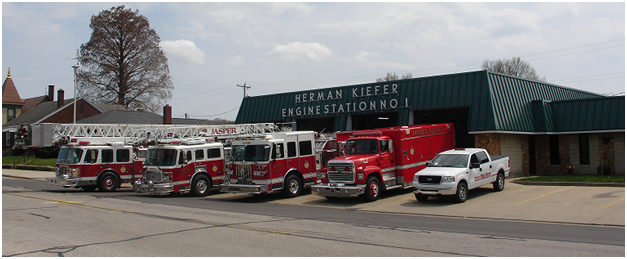 Incorporated on January 13, 1896 the Jasper Fire Department is a volunteer department consisting of one full time fire chief, one assistant fire chief, one captain, seven lieutenants and 30 firefighters. As an ISO Class 4 Department, we protect a 36 square mile response area that has a permanent resident population of approximately 16,000. We provide fire, rescue, EMS and hazardous material response for our jurisdiction which includes the City of Jasper and Bainbridge Township. The department also assists with surrounding mutual aid fire departments when called upon. The department responds from 3 fire stations consisting of four engine companies, one rescue squad, one 75 foot ladder, one 100 foot ladder platform and a chief's vehicle.
Mission:
To prepare and maintain a well trained, healthy team that responds in a rapid manner, works safely and makes a positive difference in the community.
Vision:
To adequately plan, provide and train for the present and future. Our goal is to have the requirements of today handled and prepare for the needs of tomorrow.
Values
Family
Treat everyone you work with and provide services to as if they are your own family.
Pride/Integrity
Take ownership of everything you do, see, hear and say.
Honesty
Honesty in all situations is expected and required.
Quality of Service
Train for and provide the highest quality of service at all times to everyone.
Efficiency
Plan for and function as efficiently and effectively as possibly.