Jasper Information
ESTABLISHED
Founded - 1830
Incorporated as a Town - 1866
Incorporated as a City - 1915

NAME
The original town of Jasper was situated on land acquired by the Enlows and contained 120 acres. A relative of the Enlows gave this account of naming the new town:
"The commissioners were going to call the new town "Eleanor" in honor of Mrs. Enlow, wife of Joseph Enlow, when the good lady said, "No, wait, let me select a name," and going to her Bible she suggested the word "Jasper" and thus the town was named. Mrs. Enlow had read the Book of Revelation, Chapter 21, Verse 19, "And the foundations of the wall of the city were adorned with all manner of precious stones. The first foundation was JASPER."
HERITAGE
Jasper has a rich German heritage contributing to the stability, permanence, hard work ethics, good management and excellent craftsmanship of this community.

Jasper has a proud sister city partnership with Pfaffenweiler, Germany. For more information on the history of the partnership, please click here.
LOCATION
Jasper, Indiana, is located in Bainbridge Township in the center of Dubois County and is the county seat for Dubois County. Surrounded by scenic, rolling hills and wooded forests of Southern Indiana, Jasper is located 122 miles south of Indianapolis, 55 miles northeast of Evansville and 79 miles west of Louisville, Kentucky.

US Hwy. 231, State Highways 56 and 164 conveniently run through Jasper. Interstate 64 is 12 miles south of Jasper, connecting the route eastward bound to Louisville, Kentucky and Cincinnati, Ohio, and westward bound to Evansville and St. Louis, Missouri.
POPULATION
1990 - 10,030
2000 - 12,100
2004 - 13,200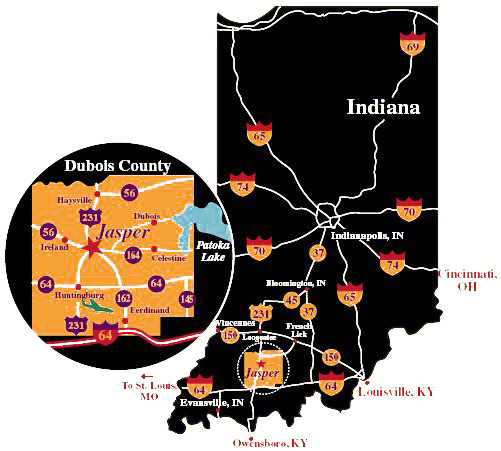 2010 - 15,038
AREA
Jasper covers 13.17 sq. miles.
City maps available at Jasper City Hall - 610 Main Street, or at the Jasper Chamber of Commerce - 302 W. 6th St. (drop box outside, after hours).
Distance from Jasper:
Evansville - 55 miles
Owensboro - 52 miles
Louisville - 79 miles
Indianapolis - 122 miles
Nashville - 185 miles
Cincinnati - 179 miles
St. Louis - 197 miles
Chicago - 287 miles
Memphis - 345 miles
Detroit - 440 miles
New York City - 839 miles