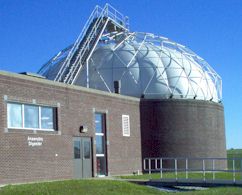 The Jasper Municipal Wastewater Utility was formed in 1949. The first Activated Sludge type treatment facility was put into operation in 1950. Prior to 1950, the City operated an unmanned Imhoff Cone installation on the banks of the Patoka River. The current Activated Sludge type facility, located at 110 US Hwy 231, was placed into operation in 1990. This current facility has a capacity of 3.6 million gallons per day with a peak load capacity of 7.2 million gallons. Disinfection is achieved by an ultra-violet light system and the entire facility can be powered for an indefinite period of time by a diesel fueled generator.

In addition to the Treatment Plant, the Wastewater Utility maintains approximately 135 miles of collection lines, as well as 25 major and 110 minor lift stations. Biosolids are disposed of by incorporation onto farm ground. The Treatment Plant is staffed 24/7 and an on-call maintenance personnel system provides rapid response to problems that arise during other than normal working hours.

The Treatment Plant also has a laboratory equipped with an atomic absorption unit in addition to the usual equipment needed to perform the testing and sampling required at a Class III facility in Indiana. An Industrial Pre-Treatment program is in place and is maintained in accordance with EPA and State of Indiana regulations.
Forms
Excessive Water Usage Wastewater Rebate form