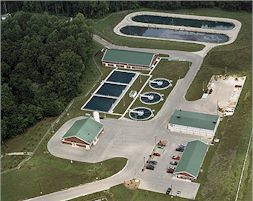 The Jasper Municipal Water Utility was formed by construction of the original treatment plant in 1895 which was funded by a $10,000 bond issue. The original plant was demolished in 2004 at a cost of $88,750.00. The current Water Treatment Facility, a conventional surface water plant, constructed in 2001, has a 6.5 million gallon per day capacity.

The primary source of raw water is the Patoka River. The Patoka Reservoir serves as the primary emergency source of water, with the Beaver Creek Reservoir serving as a secondary emergency source. The Beaver Creek Reservoir, a City owned lake, 205 acres in size, holding approximately 905 million gallons of usable storage, is located approximately seven miles east of the City. If water is needed from Beaver Creek Reservoir, it is released into Beaver Creek, which flows into Patoka River before reaching the City.

The treatment process consists of rapid mixing, coagulation, flocculation, settling, rapid sand filtration, and UV disinfection for removal of bacteria. During rapid mixing and flocculation, the following chemicals are added: blended polymer flocculent, hydrated lime, chlorine, fluoride, activated carbon, and potassium permanganate. The coagulated water flows to one of three settling basins and then to rapid sand filters having a rating of 6.5 million gallons per day. The filters discharge to a clear well reservoir having a capacity of 1.2 million gallons. The treated water is then pumped to elevated storage facilities and into the distribution system.

The storage facilities consist of two 1,000,000 gallon standpipes and a 500,000 gallon elevated storage tank, which all float on the same elevation, and in addition, a 350,000 gallon clear well reserve.

The distribution system consists of approximately 136.68 miles of 16-inch, 12-inch, 10-inch, 8-inch, and 6-inch mains. There are approximately 1018 municipal fire hydrants connected to the system and installed throughout the City. An original Corey fire hydrant, installed in 1895, sits on the northwest corner of Main and 14th Streets.

The Treatment Plant also has a laboratory fully equipped for the testing and sampling required by Indiana Department of Environmental Management. The laboratory is also used to test samples provided by neighboring communities and individual swimming pools on a fee basis.

The Jasper Municipal Water Utility also provides the Ireland Water District and Dubois Water Utility with water under contractual agreements.
Forms
Application for Non-Resident Water Connection form