Contact Us
Phone:


(812) 482-3070

Fax:


(812) 634-6997
Department Hours:
M-F 8:30 a.m.-5:00 p.m.

Box Office
M-F 8:30 a.m. - 5:00 p.m.
One Hours Prior to
Curtain Time

Krempp Gallery
M-F 8:30 a.m.-5:00 p.m. Th. 8:30 a.m.-7:00 p.m. Sun. 12:00 p.m.-3:00 p.m.
Related Topics
Boards & Commissions
More Information
Visual Arts & Krempp Gallery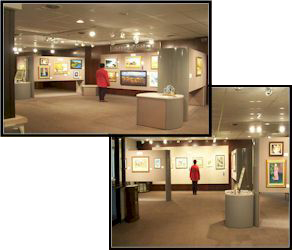 The Krempp Gallery has been a showcase for local, regional, and nationally recognized visual artists in all mediums since 1984. With new shows each month and recurring exhibits including Youth Art Month, the annual Juried Exhibit, and the Visual Arts Committee Exhibit, our gallery is committed to its mission of promoting an appreciation of and participation in the visual arts for the community and Southern Indiana. Guest artists often accompany their work with gallery lectures or related workshops. Admission to the Krempp Gallery is free and patrons enjoy a wide range of pricing for original artwork. We welcome visits by school groups, clubs, community organizations and visitors.

FiRST THURSDAY events First Thursday of the month, 5 - 7 p.m.
Krempp Gallery Exhibits
Visual Arts Coordinator, Emily Colucci
visualarts@jasperindiana.gov


2018 Krempp Gallery Exhibits
Landscape Invitational Exhibit

January 2 - 29

Reception: January 4 from 5-7 pm

14 artists
Traditional and Non-traditional Landscape Artists

Lenny Dowhie & Darryl Halbrooks

February 1 - 27

Reception: February 1 from 5-7 pm

Youth Art Month

March

High School - March 1 - 12

Reception: High School - March 4 from noon-2 pm

Middle School - March 14 - 29

Reception: Middle School - March 18 from noon-2 pm

Jasper Community Arts celebrates national Youth Art Month by showcasing artwork by students from all Dubois County Schools.

Jonathan Soard

April 4 - 30

Reception: April 5 from 5-7 pm

Pigmented ink on polymetal construction

David Cox

May 2 - 25

Reception: May 3 from 5-7 pm

Pamela Deaton

June 1 - 29

Reception: June 8 from 5-7 pm

50th Annual Dubois County Art Guild Exhibit

July 5 - August 30

Reception: July 12 from 5-7 pm

25th Annual Juried Exhibit

September 5 - 28

Reception & Awards: September 6 from 5-7 pm

Chet Geiselman & Robert Fry

October 3 - 29


Reception: October 4 from 5-7 pm

Barb McCullough & Nancy Gerber

November 1 - 28

Reception: November 1 from 5-7 pm

Oil, Acrylic, Pastels, Watercolor

Visual Arts Committee Exhibit

December 3 - 26

Volunteer Reception: December 7 from 7-9 pm