Contact Us
Phone:


(812) 482-3070

Fax:


(812) 634-6997
Department Hours:
M-F 8:30a.m.-5:00 p.m.

Box Office
M-F 8:30 a.m. 5:00 p.m.
One Hour Prior to
Curtain Time

Krempp Gallery
M-F 8:30 a.m.-5:00 p.m. Th. 8:30 a.m.-7:00 p.m. Sun. 12:00 p.m.-3:00 p.m.
Related Topics
Boards & Commissions
More Information
Did You Know?
That Jasper is the ONLY city in the state of Indiana with an official arts department?



That every child in the Jasper school system, K-12, participates in at least one art events per year, courtesy of the Jasper Community Arts Commission.

That Jasper Community Arts has been providing artistic programming for over 40 years!

That the Krempp Gallery at the Jasper Arts Center hosts twelve exhibits per year by local, regional and national artists...and admission is FREE!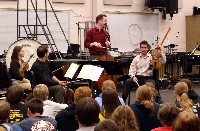 That over 40,000 people attend programs, events, and workshops sponsored by Jasper Community Arts every year.

That the Jasper Community Arts in Education program was selected as only one of twelve new Kennedy Center partners nationwide in 2005.





That Jasper Community Arts is the host to two resident organizations - Dubois County Art Guild and Actors Community Theatre.

That facilities at the Jasper Arts Center are available for rent to the public for groups, businesses, and other community organizations.

That nearly 300 volunteers help make arts events happen in Jasper every year. Check out our volunteer page for further information.