Contact Us
Contact Us
Contact Us
Contact Us
Contact Us
Contact Us
Contact Us
Contact Us
Contact Us
Contact Us
Contact Us
Contact Us
Contact Us
Contact Us
Contact Us
Contact Us
Contact Us
Contact Us
Contact Us
Contact Us
Contact Us
Contact Us
Contact Us
Contact Us
Contact Us
Contact Us
Contact Us
Related Topics
Department Overview
Darla Blazey, Director of Community Development & Planning
Kathy Pfister, Community Development & Planning Assistant
Danika Fleck, Planning Technician
The Department of Community Development & Planning provides the citizens and businesses of Jasper with economic development, long-term planning through the comprehensive plan, strategic planning and land use issues including zoning and building services necessary to maintain a vibrant community that promotes good quality of life. The department works with a number of citizen boards that handles the majority of the community's economic, redevelopment and land use issues.
The Jasper Plan Commission (JPC), an 11-member board, addresses rezoning and subdivision of land requests for the City and its two-mile jurisdiction in addition to maintaining and updating the City's Comprehensive Plan. The Jasper Board of Zoning Appeals (BZA) is a five-member board that addresses variances to the standards laid out in the city's Unified Development Ordinance. The primary types of appeals that can be filed with the BZA include: Nonconforming Situation Ruling; Administrative Appeal Ruling; Special Exception; Development Standard Variance; and Use Variance.
The Department serves as a one-stop shop for community development projects as well as property owners looking to improve and maintain the value of their neighborhoods. The department provides an exceptional customer service experience that residents and businesses expect.
In addressing the City's land use concerns, the Department of Community Development and Planning issues a variety of permits relating to construction projects. Location improvement permits (building), sign permits, fence permits, pool permits, demolition permits and land grading/disturbance permits are a sampling of the permits granted. The Department also organizes a team of various City of Jasper departments to provide a technical review of commercial and industrial projects and plans for new subdivisions.
As its name implies, the Department of Community Development and Planning handles community development matters for the City of Jasper. The department is responsible for qualifying relocating or expanding businesses that are seeking City incentives such as tax abatements. Quality of life issues such as housing, downtown revitalization and tourism development are also addressed. Additionally, the department is responsible for overseeing the City's comprehensive plan as well as the City's branding and marketing strategy.
About the JCAC
Mission Statement
Our mission is to stimulate and encourage an appreciation of and participation in the arts. We will be a catalyst for cultural and economic development in Jasper and Dubois County through promotion of, participation in, and enjoyment of the arts.
Vision Statement
We are an organization guided by quality. We have developed a strategic plan that guides our work and allows us to be less reactive to everything that comes along. Our patrons are at the center of our work. We listen and respond to their needs as part of our mission. We treat patrons as if they are our best friends. We talk with them, we listen to them, and we respond to what they tell us. We have developed a positive working relationship with the Friends of the Arts. We work cooperatively with them to increase area support for all arts activities.

We believe the arts are for all. We offer a continuous series of visual and performing art experiences for both the novice and the more seasoned arts patron. We seek constantly to improve and expand our offerings. We are becoming a partner in the arts with the Kennedy Center which connects the arts to the school curriculum and enhances teachers' professional development opportunities.

We continue to work on plans for our facility and will take strategic action on those plans in order to meet the needs of our customers. We work to maintain positive relationships with our city, our county, our business community and our patrons while focusing on bringing the arts to life for all.
History
In the 1970s a not-for-profit group, called the Jasper Auditorium Corporation was created in order to promote the building of a civic auditorium. The result of their campaign was the $600,000 Jasper Civic Auditorium which was completed in 1977.

Founded on May 12, 1975 as part of the City of Jasper, the Jasper Community Arts Commission became the only arts commission in the state to be officially recognized as a department of the city and under the authority of the city council. Its mission is to stimulate and encourage an appreciation of and participation in the arts by citizens of all ages in Jasper and the nearby area, and to foster an environment conducive to the enjoyment of the arts. The JCAC is responsible for the management of the Jasper Arts Center.

The Jasper Community Arts Commission consists of 11 government-appointed members. Four members of the Commission are appointed by the Mayor, five by the Jasper City Council, one by the Jasper Parks and Recreation Board and one by the Greater Jasper Consolidated School Board.

Since 1977, the Jasper Arts Center has grown in size and strength. In March 1983, a 31 x 117 feet addition provided for the Krempp Art Gallery, office space, additional restrooms, a ticket booth, concession area and storage space.

The Jasper Community Arts Commission employs a staff to oversee its day-to-day operations and programs. In the past few years the staff numbers have grown from the original two employees to four full-time and seven part-time employees.
Beaver Lake
Directions
Four miles east of Jasper, turn north off of State Road 164.
About This Location
A 205 acre lake which offers a wide variety of outdoor recreational activities.

Shelter houses and picnic areas provide an excellent setting for family gatherings.

Fees
42 Lots - $450 per year
Docks - $50 per year

Class of Boat
Class A
For each row boat or canoe not equipped with a motor of any type, there will be an annual fee of $30.00.

Class B
For each boat equipped with an outboard motor of ten horsepower or less, there will be an annual fee of $35.00.

Class C
For each boat equipped with outboard or inboard motors greater than ten and meeting United States Coast Guard and Boating Industry of America boat size and horsepower limitations, there will be an annual fee of $40.00.
Amenities
Shelter
Fishing
Picnic Area
Arts Center Information
The Arts Center includes an auditorium, dressing rooms, green room, community room/dance studio, and an art gallery. In addition to JCAC-sponsored events, the facility is also used for community rentals and activities. An off-site space is currently used for most art classes.


Rent the Center
Jasper Arts Center Rate Schedule

The Jasper Arts Center is available for rental for a variety of uses. The Arts Center includes an auditorium, dressing rooms, green room, community room/dance studio and art gallery. Rental prices are based on the type of usage required as well as areas of the building used. All renters must provide liability insurance. Rentals are based on blocks of times: four hours for event, five hours for set-up and rehearsals. Full building rentals include general stage lighting (wash from the front and overhead), use of the house sound system and use of follow-spots (renter provides operators). Piano usage may also be arranged for an additional fee. A JCAC representative will be on hand for full building rentals to oversee lighting and sound.

The auditorium in the Arts Center is a 675 seat proscenium style theater. An additional 25 padded chairs are set up in the rear of the audience bringing the total capacity to 700. The proscenium opening is 40 ft. wide by 16 ft. high with the stage approximately 35 feet deep. Wing space is limited. The Arts Center also has a green room and two small dressing rooms (for 6 & 5 people) complete with rest room facilities and showers. The dressing rooms and the green room are half a level up from the stage.

The community room/dance studio is 27 ft. by 52ft. and is half a level down from the stage with direct access into the auditorium. The room features a resilient dance floor and mirrors along one wall. Adequate numbers of table and chairs are available in the community room for a variety of purposes.

The Krempp Gallery hosts monthly exhibits of works by local, regional and national artists. The Gallery also serves as the lobby for full building usages. A small kitchenette and a coat room are located directly off the Gallery and a box office is located at its entrance.

To inquire about renting the Jasper Arts Center, contact JCAC facility manager Doreen Lechner at (812) 482-3070 or e-mail dlechner@jasperindiana.gov

Resident Organizations
The Jasper Community Arts Commission is pleased to have these not-for-profit groups as Resident Organizations.
Actors Community Theatre
A volunteer organization providing opportunities for area individuals to participate in all aspects of theatre-as actor, musician, director, designer, stagehand or audience member. ACT provides a nurturing environment for area talent, producing quality productions for all people in southern Indiana at reasonable prices. For more information about upcoming shows and auditions, or to learn more about ACT, visit www.actorscommunitytheatre.com
or e-mail A.C.T. info@actorscommunitytheatre.com
Dubois County Art Guild
Formerly established in 1969. The organization strives to attract artists, exhibit their work and share their love of art with the community. The Art Guild holds an annual month-long exhibit in July in the Krempp Gallery of the Jasper Arts Center. To promote art education, a scholarship competition is held each year for high school seniors that plan to pursue an art career, Membership in the Guild is open to all adults interested in art and has been expanded to include surrounding counties. Meetings are held the first Thursday of the Month, generally at the Jasper Arts Center. For more information contact DCAG president Yvonne Hogan, (812) 634-1782.

The Jasper Arts Center is available for rental to community organizations, corporations and individuals. Just call the JCAC at 482-3070 and ask to speak to the facility manager.
Backstage Crew
General Information for Backstage Crew
If you need to reach JCAC staff, the office telephone number is (812) 482-3070. Ask for Doreen Lechner, Facilities Manager.


Your agreeing to serve as a volunteer is a commitment that we greatly appreciate. We are contractually obligated to provide a certain number of crew, and we rely on your commitment to be at the Arts Center throughout the time period in which you have agreed. Each performance has a different set of time and crew requirements, but they typically include load in, set up, run of show and load out. In general, we prefer that volunteers can commit to the entire period (from load in through load out), but we are glad to have your help at any point.


The numbers of volunteers varies from performance to performance. In general, the Performers Series events require more personnel than do the Backstage and Family Series events. Although we may not solicit your help for a particular performance, you are encouraged to let us know if you would be interested in volunteering for any of the performances.

Volunteer positions will usually fall into the following categories:
Loaders loading and unloading scenery & equipment from trucks/vans (ALL volunteers help with the loading and unloading)
Carpenters setting up the stage scenery, platforms, etc.
Electricians hanging & focusing of lights; follow-spot & light console operation
Sound assist with set up of sound equipment & console operation
Props assisting with stage properties
Wardrobe assisting with costumes & wigs; steaming, ironing, repair; dressers
Runners running errands for the company; transporting bus drivers
Hospitality setting up snacks & drinks; making cast & crew comfortable
Volunteers should wear comfortable, working clothes for load in and out. If you have a pair of work gloves, you may want to bring those as well. We do provide gloves if you don't bring any. Backstage running crew personnel (during the performance) are to wear dark clothes, preferably blacks. If you are asked to usher, you should bring along some nice clothes for that. There will usually be time to leave and change before the show call, but if we are running tight, there may not be.


As a volunteer, you are a representative and serve as a reflection of the Jasper Community Arts Commission. We have received numerous compliments from performing groups on the ability, enthusiasm and professionalism of our stage crew. We ask that you refrain from inappropriate language and behavior while you're at the Jasper Arts Center.

Professional touring groups travel with only a skeletal technical supervisory crew. They rely on having local crew do the actual set up and running of the performance. Volunteers are assigned to certain members of the touring group and are answerable to them. If there are any difficulties, procedural concerns or suggestions, however, these need to be addressed to Doreen. She in turn will discuss them with the touring company. If your company supervisor has released you, please check with Doreen to be sure you are not needed for a different assignment.
Camp Carnes
About This Location
This facility is a former Boy Scout Camp. It features a rustic setting surrounded by 40 wooded acres. The lodge can be rented for family reunions, holiday parties, graduation parties, and receptions. There is no overnight camping at this facility.
It is connected by way of a walking trail to a separate shelter house.
This facility is tobacco and alcohol free.
Seating Capacity
60 people
Rental
Fee - $50 per day plus tax
Deposit - $50, returnable pending condition of facility.
For more information or to reserve Camp Carnes, contact Ben and Sarah Johnson at 482-6488. If no one answers please leave a message and they will return your call.
Amenities
Restrooms
Shelter
Walking Path
Volleyball Courts
Playground
Horseshoe Pits
Kitchen
Folding Tables with Chairs
Applications
Welcome and thank you for your interest in employment with the City of Jasper!
The City of Jasper accepts applications for open positions only. Those positions will be posted on this web site under the heading "Jobs" and on the City Hall bulletin boards located in the lobby of Jasper City Hall. If you meet the job qualifications described in the job posting, we encourage you to apply.
The City grants equal employment opportunity and equal treatment to all employees, applicants and recruits, and hires and promotes qualified individuals without regard to race, color, religious belief, sex, age, national origin, disability or veteran status.
Central Green
Become a Volunteer
Be A Volunteer...
The show can't go on without you!

We are always looking for volunteers to help with special events. Please call, stop in, or fill out the submission form if you are able to donate your time.

Enjoy music, art, and the energy of the events from behind the scenes. Mingle with the other volunteers in the arts community.
Here is what some of our other volunteers have to say:
"The greatest gift has been to see many wonderful performances. Cultivating new friendships has been an added bonus."

"Having fun!"

"The opportunity to see incredible performances, knowing I am appreciated for my volunteer service and the knowledge that I am contributing to my community in a way that provides pleasure to many people."
What are the Rewards?
Seeing incredible performances
Meeting new and interesting people.
Making a difference in your community.
Gaining exposure to arts and culture.
Volunteer hours can be used for service hours.
Having fun!
Volunteer Opportunities can be used for service hours. For more information call (812) 482-3070.
Box Office
Ticket Information - Single Tickets

Single tickets will be available beginning August 14, 2017 for all events at the Jasper Arts Center. They will be on sale up to the show date or until the show is sold out. Call the JCAC box office at (812) 482-3070 to purchase tickets! You may also stop by the Jasper Arts Center at 951 College Avenue, Jasper.
Hours of operation are Monday-Friday, 9 am-5 pm.

NOTE: You may order individual tickets now but orders will not be filled until after August 14, 2017. Orders are filled on first come, first served basis.

Ask about group ticket discounts.

Season Series Packages

Season tickets are sold for the following series: Performers - Traditional, Performers Series - New Directions, Backstage, and Family Fun. Season tickets are on sale now. Purchasing by subscription generally saves the buyer 20-30% off single ticket prices! For information, call the JCAC box office at (812) 482-3070.

Series packages are the BEST VALUE! Four great packages to choose from.

Subscriptions are processed in the order of receipt, so act early to receive the best seats available!

You can't beat these series package prices! You receive the highest quality performances at the most affordable prices!

Jasper Arts Grand Package
Includes tickets to all performances in the Performers Series, Backstage Series and Family Fun Series. One great season of outstanding performing arts events, 12 in all!

2017-2018 Series Prices: $225 adult, $210 senior, $150 student/child
All twelve events!

Performers Series - Traditional
Three incredible events for one great price! Saving up to 28% off single ticket prices!
Wynonna and The Big Noise, September 24, 2017
The Jive Aces - Swing'n the Holidays, December 2, 2017
On Golden Pond, February 18, 2018
2017-2018 Series Price: Adult $85, Senior $77, Student/Child $68 SAME GREAT PRICE!

Performer Series - New Directions
Three incredible events for one great price! Saving up to 28% off single ticket prices!
Martial Arts and Acrobats of Tianjin, October 28, 2017
Rhythmic Circus, March 17, 2018
Six Appeal, April 15, 2018
2017-2018 Series Price: Adult $85, Senior $77, Student/Child $68 SAME GREAT PRICE!

Backstage Series
Three entertaining and enriching events for one low price!
Landscape of Guitar, October 8, 2017
Julian Gargiulo, January 26, 2018
The Good Lovelies, March 9, 2018
2017-2018 Series Prices: $58 adult, $55 senior, $36 student/child

Family Fun Series
Perfect for all ages! Great way to spend time as a family!

Three Terrific Shows This Season!
Playing By Air, November 12, 2017
Justin Roberts, February 25, 2018
Journey to Oz, March 24, 2018
2017-2018 Series Prices: $40 adult/senior, $20 student/child

Special Events
Eclectic mix of events - performances, poetry readings, art lectures, films - individual ticket sales only. New events may be added throughout the course of the season.
Tickets sold individually. Very limited seating on art lectures.
See Special Events page for individual ticket prices.
All dates, artists and programs listed are subject to change.
Dog Park
The City of Jasper's Dog Park is year round from dawn to dusk. It is a three-fourths acre, fenced in park, and is located on the north side of Gutzweiler Park.
Members are required to register their dog(s) and sign the Membership Card Application and Waiver Form at the Jasper Park and Recreation Department located at 1301 St. Charles Street, prior to use of the facility. An Annual Fee is required.
Owners must provide a copy of each dog's vaccination records that includes Rabies, Parvo, Distemper and Bordetella at the time of sign-up.
Please note that membership cards cannot be loaned or transferred to non-members. Such action could result in termination of rights.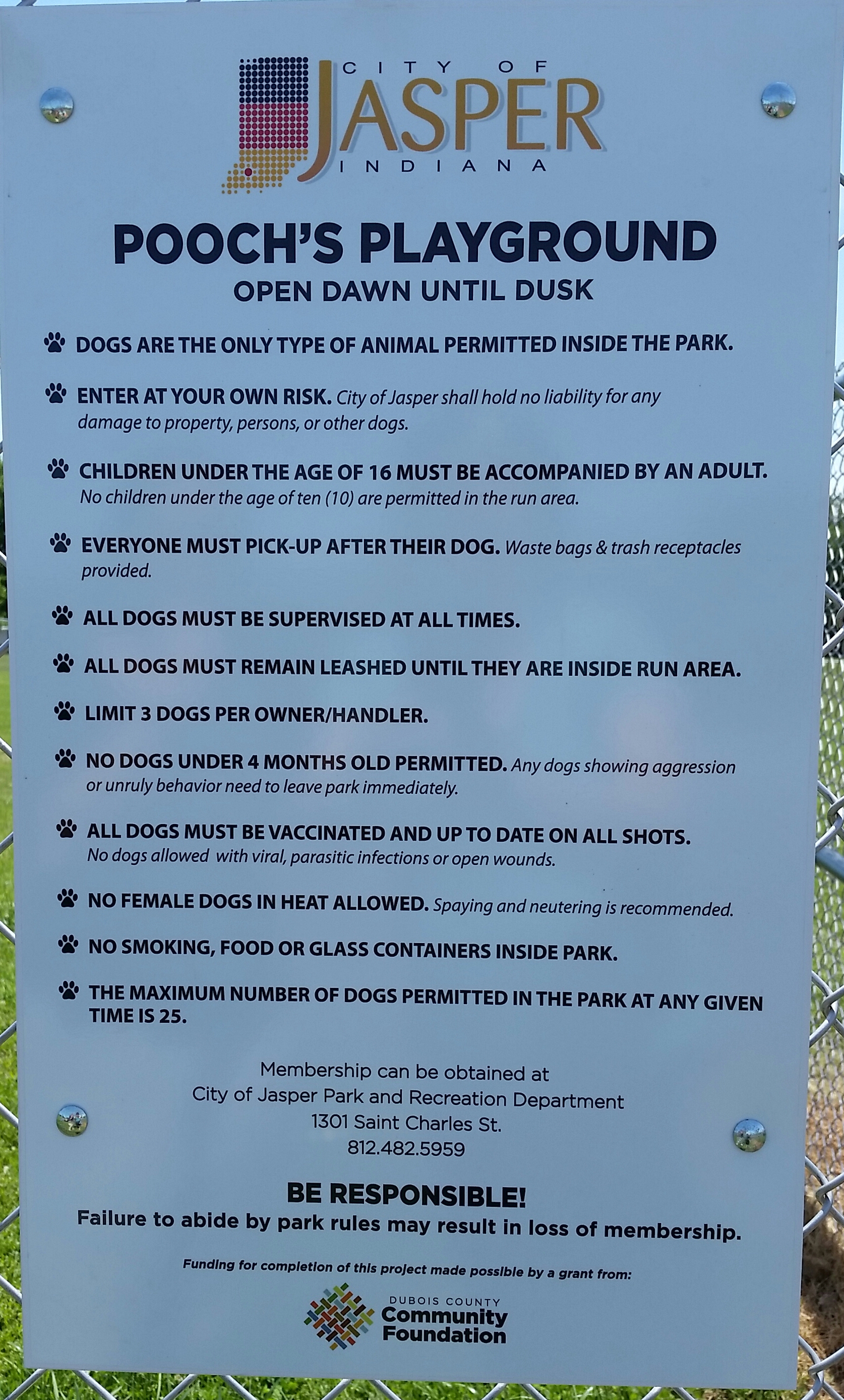 Chalk Walk
JCAC Chalk Walk Arts Festival
The Jasper Community Arts Commission's Fifteenth annual Chalk Walk Arts Festival has been scheduled for Saturday, June 2, 2018, on the square in Downtown Jasper from 8:00 am to 3 pm. Rain date is Saturday, June 9, 2018.
PLEASE TUNE INTO WITZ RADIO FOR ANY CHANGES OR CANCELLATIONS DUE TO WEATHER.
YES! You can still register for Chalk Walk up to the day of the event. However, you will not receive the free T-shirt but some T-shirts will be available for purchase.
The JCAC Chalk Walk is a family-friendly community event intended to inspire and stimulate the creativity and artistic ability in all of us. In the tradition of European 16th Century street painting, Jasper's downtown sidewalks and pavements are transformed into colorful chalk and pastel murals. While this gallery of art will be temporary, the memories are lasting.

Plan to attend this not-to-be-missed celebration of the arts with hands-on activities, demonstrations, displays and an Arts Market.

You don't have to be a professional artist or even know much about art. All you need is the desire to have fun and be inspired!

Come join us on the Pastel Pathways and watch Jasper's downtown sidewalks come to life with color, music, and laughter.
2018 Resident Artist or Volunteer (adult)
Click Here
Golf Courses
Jasper is home to two golf courses. Check out the links below to see more information on each.