Contact Us
Phone:


(812) 482-6944

Fax:


(812) 482-5047
Department Hours:
M-F 8:00 a.m.-4:00 p.m.
In This Department
Clerk-Treasurer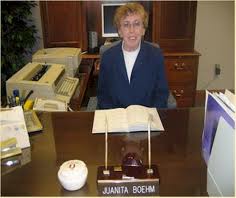 Juanita Boehm

The Clerk-Treasurer is the fiscal officer for the City of Jasper and the clerk of the City Council and Board of Public Works and Safety. The Clerk-Treasurer serves as head of the Department of Finance and serves as the official keeper of the City's records.

The Clerk-Treasurer's term of office is for four years with no restrictions on the number of terms which can be served.
Powers & Duties
Processes and maintains all financial data including revenues, expenditures, payroll and city budgets.
Makes investments of City monies.
Keeps records of Council and Board of Public Works and Safety proceedings and has charge of documents relating to its business.
Prepares and keeps Ordinance Books and Resolutions.
Keeps contracts between the City and other public agencies.
Provides copies, upon request, of documents that are maintained in the Clerk-Treasurer's Office.
May officiate at weddings